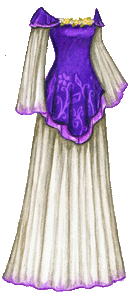 Click for larger version (PNG); click for PDF version. Click here for the list of dolls.
So this would be… four months late? Forgive me, Sage, EmilyRose, Celestina and the rest of you with birthdays in February. Or think of it this way: the presents are opened, the check from your grandma long since cashed, and yet there remained one unexpected gift!
… Yeah, maybe not. I'll try to be a little more prompt next year… And I believe I still have January and April to catch up on, but technically Sylvia and Iris already got January and April dresses, so I thought that of the three choices, those months could wait. In any case, February's birthstone is the amethyst and the birth flower is the primrose, so that led to today's color choices. Also, trazy, I need to thank you for forcing me outside my comfort zone — that technique of light patterns on a dark background is not too hard (if the light part is done with a dark enough pencil that you can see it) and looks striking. Expect to see it show up a few more times until I get it out of my system!
Well, that was a short contest! To win the contest, someone had to guess one of the ten movies I rated the highest with movielens, and Sofia won already, with her guess of Casablanca. (The other nine: Whisper of the Heart, Vertigo, The Thin Man, Some Like It Hot, Robin Hood (Disney version), Porco Rosso, North by Northwest, Dr. Strangelove and All About Eve.) Congratulations Sofia!