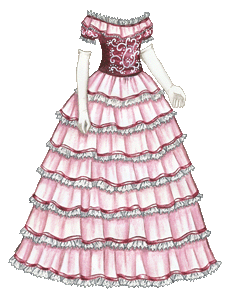 Click for larger version (PNG); click for PDF version. Click here for the list of dolls.
Well, today's dress wasn't quite what I wanted. I was planning on trying to draw lace with the white gel pen, but I ended up doing it all in pencil instead, and then I picked up the wrong pencil while doing the bodice and colored for a while before I realized my mistake. What I have here is totally different from what I wanted, because after my mistake the only thing I could do was to make it as dark as possible and draw something distracting on top of it. I probably wouldn't quite so annoyed about my bodice mistake if that skirt hadn't taken so long!
Anyways, I just thought I hadn't done a hoop skirt for a while, and it would offer a lot of opportunities to practice drawing lace with the gel pen, which I didn't even do…
… I'm just going to post this and be done with it!