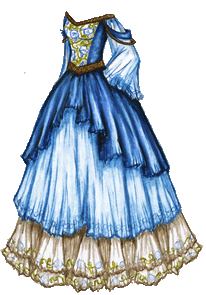 Click for larger version; click for the list of dolls.
So the masses – relatively speaking, at least, eighty-some paperdoll fans at last count – have spoken, and you want me to draw new things instead of spending my time rescanning old ones. I maintain that if you knew how beautiful some of my old dresses were supposed to be — but new things it is, and I will rescan old things on days when I am feeling lazy.
This is technically a lazy day too: when I was on vacation I got together with my cousin Becky and we got out the Prismacolors for an old-school paperdoll jam session! This gown and another I'll post tomorrow are the ones I did, and she did two as well which I will post. The gold looks a little flat on this one because I used the Prismacolor gold pencil which doesn't scan well, but I really like how the blue came out. It looks like it could be a backup for one of my twelve neglected princesses, doesn't it?