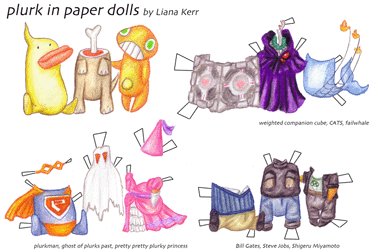 Click for larger version.
You may have heard of Twitter, the latest way for web 2.0 types to revolutionize the world, and what I use for off-the-cuff paperdoll updates, over on the sidebar. I also started using plurk, which is similar but has better organization and makes it easier to carry on conversations. (Twitter now is just paperdoll stuff while plurk is more "here's what I'm making for dinner," but feel free to visit my Plurk stream.)
Anyways, Plurk had a design contest recently, so I drew up this one-off paperdoll that uses three of the "plurk creatures," Plurk's creepy-cute mascots. Besides the Halloween costumes, the other sets have a more geeky bent to them. Top left, you'll find three memes that geeks have obsessed over to ridiculous levels: Portal's Weighted Companion Cube, CATS from Zero Wing, famous for the All Your Base dialogue, and Twitter's failwhale, the image that signals the site is down. Bottom left, there's Bill Gates, Microsoft co-founder, Steve Jobs, Apple co-founder, and Shigeru Miyamoto, Nintendo's "father of modern video games." (His outfit was taken from this BusinessWeek article because it was so cute.)
Sadly, I didn't win the contest with my little plurky paperdolls, so I'll have to buy the book I wanted, McGee & Stuckey's Bountiful Container, with my own money after all. Still, even if I didn't win the contest, I at least have something for my blog today!