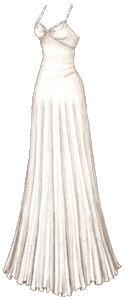 Click for larger version; click for the list of dolls.
Brian refused to watch Swing Time with me. More specifically, he said: "I don't believe this is worth watching just because it's on some 100 great films list. Do you know how many 'hundred great films' lists there are? Obviously someone mistakenly placed this movie on one." Well, I don't watch his creepy horror-sci-fi movies, so it works out. Most of our time, our Netflix queues co-exist happily, but on some things, we may never quite see eye-to-eye. (And he was right, he would have hated it. But the dancing was gorgeous…)
This is a dress Ginger Rogers wears towards the end of the movie, most prominent in "Never Gonna Dance." As may be guessed from the general lameness of the bottom third of the dress, I wasn't really happy with how it turned out, and I don't know how the skirt works at all. But, oh well.
Edit (2/28/09): I didn't like the way this version of the dress came out originally, so I redrew it. The neckline still isn't quite right, but that's because the doll's underwear doesn't work with the way the dress should be. You can click here for the old version of the dress, or if you want to see the original, you can see how it works on this video of Never Gonna Dance.