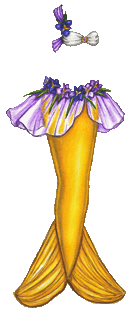 Click for larger version (PNG); click for PDF version. Click here for the list of dolls.
So yesterday was Mother's Day, and then I go and disappoint my poor mother by deciding to take Sundays off! Well, I couldn't not do Mermaid Monday, but this one is dedicated to my mom, since she likes irises. (Yes, that's what those flowers are supposed to be, water irises. You all should see the irises she draws: they are beautiful and look like irises, unlike mine.)
Right now, sadly, I live over 2,000 miles away from my family, but this summer, we're planning on moving, Prismacolors and cats and all, from Michigan to Washington State where they live. You all should appreciate that, because I have a feeling that once I'm out there, Mom won't let me get away with any more half-year disappearances! Seriously, though, I will probably end up drawing more because I can get together with her, or my cousin Becky, and just enjoy drawing. So wish me good luck with that, once I get to that point.