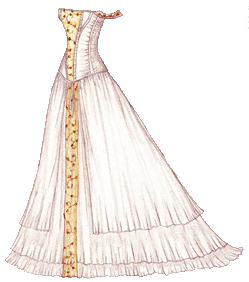 Click for larger version; click for the list of dolls.
Now I don't really listen to country music, possibly because I fear being disowned by my dad, who says if he starts to listen to it of his own volition, we will all know he's gone senile. Still, when Janel wrote about a beautiful dress that she was helping a young friend reproduce, it was almost a foregone conclusion that it'd end up on my blog, even if it did come from a country music song. It's called Love Story by Taylor Swift, and I think it's a lovely music video even if I am getting teased by Brian about it.
Since she spends almost all her time in this dress standing behind a balcony, and because I'm watching the video on YouTube, I can't really tell how the skirt looks; the corset should be about right, but the skirt is more of a guess. From this photo it seems to have some interesting construction going on, but that's just about the only picture I can find with the full skirt. (The arial view in the video doesn't count, but it does give away that there is a longer train on the real thing than on the paperdoll. Unfortunately, while her costume designers likely have access to yards and yards of fabric, a proper train would have run off the side of my paper. Paper Dolls 1, Real Life 1.) Should anyone else wish to reference it, I used these two pictures when drawing the corset.
There's been a tremendous amount of interest in this dress, so I wanted to add two things: One, I'm definitely not the designer — that would be Sandi Spika. Two, Janel wrote a FAQ on the Love Story dress that answers questions about the dress and is very helpful to anyone wanting one for themselves.
I'm glad there's no clear winner in the poll yet, it makes the Grand Halloween Showdown so much more fun…