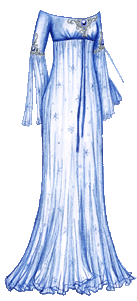 Click for larger version (PNG); click for PDF version. Click here for the list of dolls.
Remember me?
… I know, I know. I do some of the best dresses I've ever drawn, and then I up and vanish on you. I'm very sorry, everyone… I do tend to swing between obsessions, and I don't know if it's quite time to return to paperdolls, but my mom was quite right when she said it's past time for the fire gown to be the first thing everyone sees when they look at the site. This isn't the December birthday dress or anything… it's just pretty. I hope. I'm kind of rusty. And it's blue because I'm feeling blue about being such a lousy paperdoll blog maintainer. Kidding. Sort of.
I will have another couple of updates in the coming days, but for now I thought I had just better post something, apologize for the complete and total neglect, and get it over with!