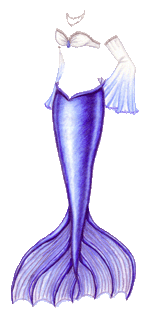 Click for larger version; click for the list of dolls.
I was going to do an unfortunate light-green colored mermaid this week, but it is the first of the month. You may remember from last week's installment that mermaids associate light green with death, and even if it is a superstition I created with no basis in mythology or reality, it still seems inauspicious to start one's month with an ill omen. Instead, since it's getting snowy here, I thought I'd do a wintery-looking mermaid.
Now, mermaids tolerate cold temperatures very well; their clothes are almost entirely ornamental and they can swim around entirely naked if they choose, although for obvious reasons I end up focusing on the ones who opt for shirts and shells. So even the mermaids who live further to the north in colder waters, like this one, don't have to do much covering up. Don't be fooled by her sleeves, they provide about as much warmth as the average silk scarf and their only purpose is to swish fetchingly around her wrists as she chats animatedly with her friends.