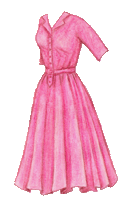 Click for larger version; click for the list of dolls.
So I saw that Moxie Tonic had linked to me, and when I clicked through the first thing I saw was this sweet, hot pink dress she had made. It's inspired by a character's dress from a TV series called Pushing Daisies, although she made some changes to it. I don't actually use hot pink much, so of course I wanted to try paperdolling it… It's not quite like the original, I'm afraid, I think I didn't get the collar right at all, and there's too many buttons. I'll pretend that it's so blindingly pink no one will notice…
Sadly, though, my scanner kind of ate this one — I don't know why, but when I scanned it, it previewed normally, but the actual colors ended up being weirdly super-saturated — yes, it's possible even for hot pink — and it seemed to come out more… coarse, somehow. Lily's gown yesterday did that too. (Plus this one has a few bands on the skirt…) It means I had to play around in Photoshop and try to make the coloring look like what I had, although it's a lot less pink now, and it's not so bad when resized. (The large image you see is 25% of the original, which ends up hiding a lot of flaws.) When I get a new scanner, I'm rescanning it, and then you all can enjoy how it's supposed to be. On the upside, the dress looks pretty cute in blue, too.