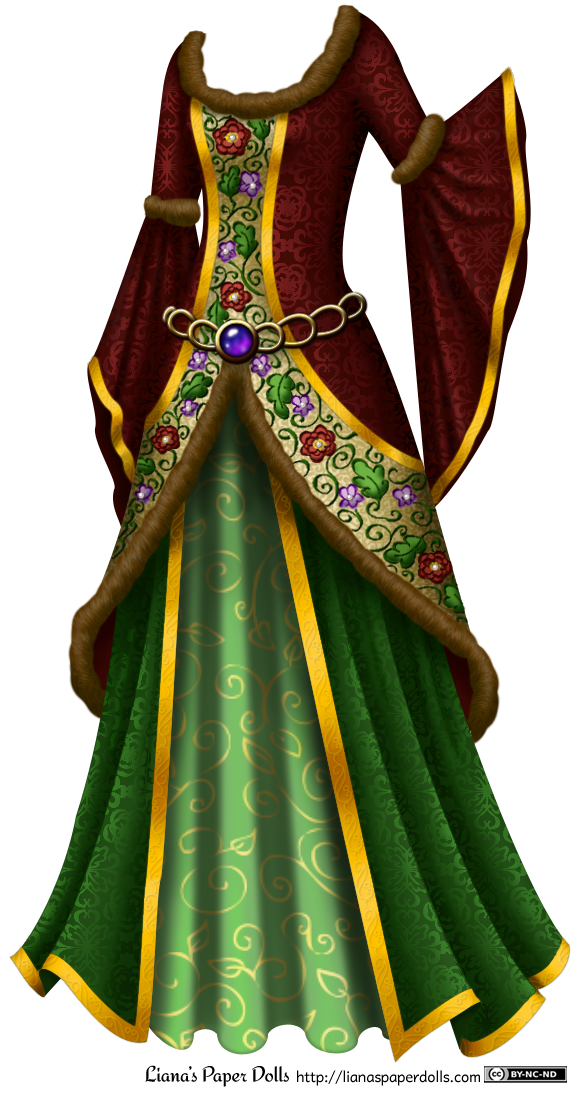 One quick thing before I get into talking about the new dress: I've signed up with Patreon, a service that helps people become patrons of the art and media they like. If you would like to support me and my work, please take a look at it!
This gown is the result of my most recent contest, which consisted of two parts. I held it on Facebook, and in part 1, I asked my followers to choose between three categories: evening gowns, medieval dresses and mermaid tails. Medieval dresses won, so I spent some time collecting images of medieval dresses I liked on Pinterest and making some sketches, leading to this black and white sketch and contest part #2. (You'll note there's no necklace on the finished dress — I made one, then decided it was just gilding the lily.) In this stage of the contest, people just had to like the post to enter. Eleven people did, and the first winner, chosen by a random number generator, was Nikki Paulsen, but she never got back to me by the following Sunday, and so unfortunately I needed to pick someone else, too. (Nikki, if you read this, I'll still recolor it for you any time! Just e-mail me or leave a comment here or on Facebook.) The second winner was Hannah Bristol, and here was her request:
The style of the dress makes it seem like a very foresty, homey type of gown. I think I'd like to see the overcoat in earthy tones of red with gold accents, maybe with a brownish-gray fur trim, and the underskirts in shades of green.
I'm not sure if I exactly hit "homey" and "foresty" notes with all of the embroidery, satin and gold trim, but the results are lovely, so maybe it's something Maid Marian could wear when she needs to get dressed up. Hannah, I hope you like how it turned out! I really enjoy trying to fulfill someone else's color scheme, because I feel like I always learn something I wouldn't have when I color it by myself. I posted a series of pictures showing the steps in making this dress on my Tumblr, if anyone is interested in that.
My intention is to hold these contests once a month and spread them among my various social media venues, the blog and the mailing list. I haven't decided where the next one will show up, but it will start on the 13th.
Next time there will be a special Valentine's Day present for all of my beloved readers, so come back next Friday! Don't forget to follow me on Facebook for updates and fun things, Twitter for my thoughts and sneak previews, or Pinterest for lovely dresses and jewelry. You can also sign up for my mailing list at the top of this page!