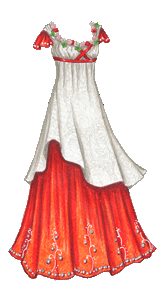 Click for larger version (PNG); click for PDF version. Click here for the list of dolls.
My mom's birthday is today, and if I didn't do a June birthday dress, well…
June's flower is the rose, and one of the birthstones is the pearl. It was hard deciding what color of rose to base it on, but in the end I did yellow, pink and white dresses pretty recently.
Sorry for the brief post, I've been looking at a computer a little too long today!
The total number of visits my site got between April 1 and 30th was 19,629. That makes Dani's guess of 19,632 the closest! Congratulations Dani, pick your dress and your colors and let me know your decision!