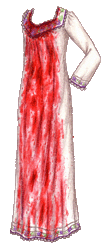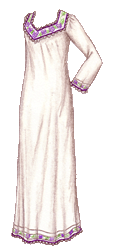 Click for larger version bloody / clean; click for the list of dolls.
So the server held up all right, but I'm still reeling from the Metafilter aftershocks. Usually I get about 400 unique visitors every day, and I was really excited when that turned into 500, late October when everyone was searching for Halloween stuff — how long will it take me to top 2,824?
Even if nothing will ever be as good again, life must go on. I've been thinking about all the audiobooks I listened to this year and never did a paperdoll outfit for — just off the top of my head I can think of half a dozen that offered fertile paperdolling grounds. So I think now that the year is coming to a close, it's a good time to stop regretting the outfits that never were and start making them happen!
This is from J. Sheridan Le Fanu's classic 1872 vampire novel Carmilla, which isn't as well known as Dracula but heavily influenced it. I listened to the Librivox version read by Elizabeth Klett a couple months back. Even though it was published so long ago I feel rather like I'm spoiling it, but in any case it's no surprise that the Carmilla of the title is the vampire, preying on the sheltered and innocent Laura as well as just about everyone else in the town. In one scene she is portrayed as standing at the foot of Laura's bed, "in her white nightdress, bathed, from her chin to her feet, in one great stain of blood." As you know, I aim for accuracy in all things. (Brian said he could hardly stand looking at it…)
Now undoubtedly there are those of you out there thinking not "Poor, poor Laura, so near succumbing to the vampire Carmilla!" but instead thinking "Poor, poor night dress, so beautifully made and so sadly stained with Carmilla's dinner!" Don't worry, I've learned from my experience with the Good Queen. Look, through the magic of paperdolling you can wake up with Laura and be quite sure that it was all a bad dream…
I still haven't finished my Halloween poll series. I fear that the nightshade fairy has quite an advantage, though…