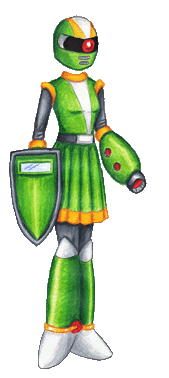 Click for larger version (PNG); click for PDF version. Click here for the list of dolls.
So today is the other costume day that I promised to my husband – he was starting to offer me money, so I thought that I really had better humor him – and he wanted a Sniper Joe outfit. Apparently Sniper Joe is a Mega Man enemy, a mass-produced Protoman clone. (Brian's been on a real Protomen kick lately, you see…)
Well, of course I get slightly bored with things like that, so I gave Sniper Joe – let's call her Sniper Jo – a cute little skirt. Her shield is smaller than it is supposed to be, I think, so let's pretend she's an updated model who can take down Mega Man just fine without that clunky big shield, thank you…
So now you have a taste of what this blog would be like if my husband was the artist… Tomorrow, back to cute dresses, I think.