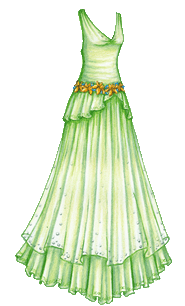 Click for larger version (PNG); click for PDF version. Click here for the list of dolls.
I'm amazed that the first week is almost over… I'm very much looking forwards to next week. I've got an idea for next week, and that often means trouble…
Anyways, today we have a dress based off of Goldberry's initial description in the Fellowship of the Ring. She's described as wearing a green gown with silver "like beads of dew," and a belt of gold in the form of flag-lilies with forget-me nots. And as her arms are described as white, I decided she didn't need any sleeves… So this is just my interpretation of her costume, and if I could have just about anything I've drawn as a real costume, I think this might be it. It's even prettier on the paper, I wish you all could see…
As always, vote in the poll if you haven't yet… Have I ever gotten this many poll responses before? It's almost up to 300.