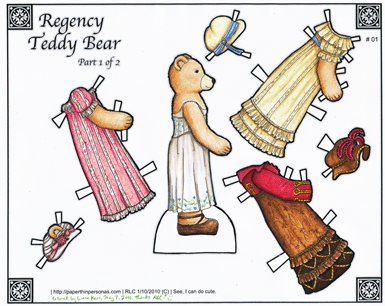 Click for larger version (PNG); click for PDF version.
RLC, who runs the awesome paper doll blog Paper Thin Personas, drew this Regency Teddy Bear set to prove that she could do cute. As for me, since I started paperdolling again I just can't put down the Prismacolors, and I've been thinking it would be fun to color this one for some time. (I've also had my eye on the Lady of the Manor set…)
There's a Part 2, as well, so look forward to that! Thanks so much to RLC for letting me post her!