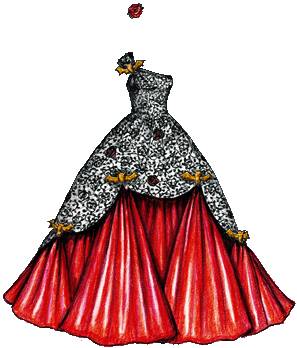 Click for larger version (PNG); click for PDF version. Click here for the list of dolls.
How sad, it is almost the end of October and I have hardly thought about Halloween costumes… To tell you the truth, I've had quite a lot to think about, recently, because I'm pregnant! I'm in the second trimester, and if all goes well the baby will be arriving late April. Things are going well, I'm healthy and doing much better than I was in the first trimester, when I was exhausted and had pretty crazy morning sickness — all within the range of normal, but crazy nonetheless. (If you're interested, I wrote about it for a new baby-centric tumblelog Brian set up: First Trimester Recap: "Hm, what does this button do?" But it is mostly a bunch of complaining about eating nothing but cereal bars and saltines, plus one of the ultrasound pictures.)
Baby news aside, it is almost Halloween, and that's important around here, no matter how pregnant I am. It's always the best time for paperdolling, and as it so happens I feel energetic enough that this October may not be a total waste… So check back again before the 31st!
I guess the only thing Halloween-ish about this ballgown is the "bat bling," as Brian termed it. (They started life as albino bats, but there was too little contrast, so now they're gold.) I don't really know where the roses came from. But no matter, it is dramatic enough that one could acquit oneself honorably at a vampires' ball.