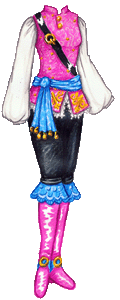 Click for larger version (PNG); click for PDF version. Click here for the list of dolls.
Here's my rendition of what Sasha Soren, author of Random Magic, might wear if she was a paperdoll pirate queen! This was vvb's idea — without her, this whole fun piratey time would have never happened, so we thought it would be fun. If you'd like to read an interview with her, click here!
To my shame, I still haven't finished reading Random Magic (although I will post a review when I'm done). This is largely because the language is fun and I'm taking my time with it, as these days, I mostly read very easy things in Japanese or non-fiction, so it's a pleasure to enjoy vivid English writing. But in any case, my copy is a review copy, and it came to me wrapped in bright pink and blue paper — hence, the color scheme.
This concludes the official tour; I'm going to draw another outfit for each of the two poll winners (I'll say Thursday and Saturday), though. Thanks to everyone who read along and entered my contest! I've enjoyed this theme a lot and I hope you have too.
Check out the tour schedule here! And for more information about Random Magic, here's the trailer for the book.