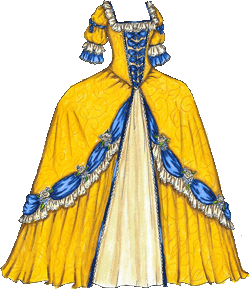 Click for larger version (PNG); click for PDF version. Click here for the list of dolls.
Shannon won the contest before last for guessing which kid I was in this picture: I'm the girl with short brown hair to the top right, underneath the outstretched arm of the boy on the chair. There are pictures of me on the "about" page and on my Twitter feed, so you can see how I turned out. She wrote:
Yaay! Lucky guess. :) I would looove to see the black and white 1700s dress colored in a golden yellow and royal (tending navy) blue with cream lace.
It reminds me of the other time I colored this gown, but it's cute in its own right! I hope you like it, Shannon.