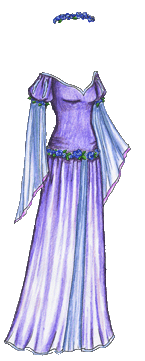 Click for larger version (PNG); click for PDF version. Click here for the list of dolls.
Sorry for the extended silence! (That goes for my neglected drawing circle, too. I hope you all haven't abandoned it yet.) There are times when nothing I touch seems to go right, and the very idea of sitting down to try to draw something seems ridiculous. But hopefully I've stopped the cycle before it turns into weeks of inactivity.
Janani won my last contest, and wrote:
How about the black and white medieval gown with flower garlands? I'm not sure how this will look, but maybe pale blue, kind of translucent sleeves, a light, maybe lavender skirt, with a slightly darker blouse, and maybe darker blue flowers?
I hope you like this rendition of it, Janani! By the way, Janani and her friend started their own paper doll blog, Silent Moonstone, so check it out!