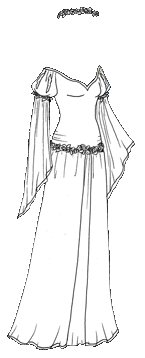 Click for larger version (PNG); click for PDF version. Click here for the list of dolls.
I wanted to play with long sleeves a little more, so that's where this dress came from. You would have to cut the edge of the sleeve for the hand to fit, but I have confidence my readers or their adult paperdoll providers can figure it out.
I said there was a special contest coming up, and here it is! I use last.fm, a site that provides music recommendations, Internet radio and so on, mostly because I always listen to the radio while I'm working, but also partially because I'm a sucker for little graphs based on what I listen to. I was thinking it would be fun to do some paperdolls based on the music I like listening to, but there's so much I couldn't decide what to try.
That's where you come in! To enter, take a look through my last.fm profile, choose any artist I've ever listened to, and post it as a comment. On the 28th, I'll use a random number generator to pick five comments, and then draw something based in some way on those artists. For example, if one of the winners picked Nikolai Rimsky-Korsakov, I listen to the Scheherazade suite all the time, so perhaps I'd do something based off of the Arabian Nights, something from the ballet, or maybe something from 1888 when it was composed.
Here's the rules:
1) Even if you've won one of my black-and-white contests, you can enter this one.
2) You can only make one guess, and it has to be on this post.
3) Entries will be accepted until 9 PM EST, June 28th.
4) Yes, Brian, even you can enter.
5) I'll take suggestions, but I reserve the right to make the final decision on what exactly to draw.