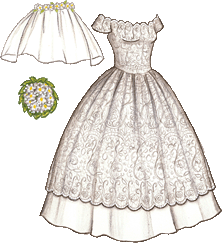 Click for larger version (PNG); click for PDF version. Click here for the list of dolls.
I do love 1950s dresses, and wedding dresses are no exception! This is just a white, tea length one with lots of lace. I'm not too thrilled with the way the flowers turned out, but unfortunately I've run out of time for tonight and I need to post what I have. So, I reserve the right to redo them at some point.
Emily guessed the answer to the contest in the comments for this post, so the contest is closed! Last week (from the 8th to the 14th), I had visitors from 115 different countries. Let me know what dress you'd like me to color and how, Emily!