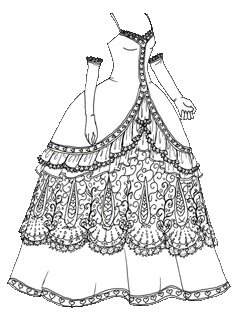 Click for larger version (PNG); click for PDF version. Click here for the list of dolls.
Unsurprisingly, I'm late for Valentine's Day, but I had to do a Valentine's Day gown for two reasons. One, Valentine's Day is the perfect occasion for the type of ridiculousness I do best. Although I appreciate the simplicity of the re-branded Valentine's Day, I'm having none of it. (Pass the lace.) Two, I love all of you for not forgetting me like I so richly deserve. I'm sorry.
The truth is, for the last few months I've been devoting myself to my other great interest, which is studying Japanese, and for some reason, when I'm really devoting myself to one thing, my interest in everything else is non-existent, and I am lucky if I can start work on time and make dinner in a consistent fashion. I really miss drawing, though. I'm going to take a stab at doing both. As a matter of fact, I was thinking, if I could combine my Japanese studies and my paperdolls somehow, I would never get tired of either of them! I'm seriously open to suggestions on this point. If you were me, what would you do with these two incongruous, underdeveloped skills?
In the meantime… well, we'll see. I really miss paperdolling. But even if you don't see me again for another month (and I really will try not to be that flaky this time!) at least now you have a new dress to color. This one could keep you busy for a while, too…