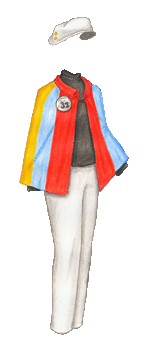 Click for larger version (PNG); click for PDF version. Click here for the list of dolls.
Lately, my husband, one of our friends and I have been watching The Prisoner, a famous 60s TV series starring Patrick McGoohan as a high-ranking British spy who resigns for unknown reasons and is kidnapped and taken to the Village, where he is known only as Number 6. The Village is like a resort where others in his position — those who knew too much, from both sides of the Cold War — live out their days peacefully, playing chess and sunning themselves on the beach, but only after revealing whatever information in their heads landed them in the Village in the first place. Although escape from the Village seems impossible, Number 6 is determined not just to get away or to keep his secrets from his captors, but to bring down the whole system.
The Village itself is cheerfully surreal, and its inhabitants wear things like these cute little capes as they noodle around the parks, shop for Village-brand staple foods or hatch escape plans that are doomed to failure from the start. Now let's face it, if I was trapped in the Village, I would probably never escape; there's a reason it's called "Spy v.s. Spy" and not "Spy v.s. Paperdoll Artist." I like to think that I would at least try, though, and one thing I can tell you is that I would be bringing one of those neat Villager capes with me as a souvenir. Well, Ivy gets one even if I don't, leaving me to wonder just what exactly she got taken there for, and how well she's been guarding that information from her captors…
My husband wants me to inform you all of two things: first, to shun the recent remake, and second, to watch the original online; A&E has six episodes up at the moment. Enjoy!