Click for larger version (PNG); click for PDF version. Click here for the list of dolls.
So last year I entered a contest run by my favorite clothing store, Holy Clothing. Rather than "favorite" it is probably more accurate to say that they are the only clothing store I have any regard for whatsoever! This might be a surprise, but I actually hate shopping for clothes: I just find it tedious and frustrating, I don't like hardly any of what I find in stores, I'd rather spend money on other things and I don't care for fashion in the least. Since I found Holy Clothing, one of their skirts paired with a plain white shirt has pretty much been my uniform.
They held a design contest late last year, promising to make the winner's drawing into a real dress: I sent in three potential designs and one of them was chosen as one of four that were then voted on by the company's Facebook fans. (I can't find the link to the voting anymore, which is a shame, as all the sketches were very lovely.) I got $100 in store credit for winning, and the dress was supposed to be called the Liana Dress. It took longer than they expected to translate the sketch into a dress, though, and then they wanted to release it in the right season, so it just went on sale this month.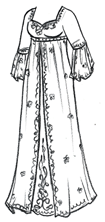 Here's the original sketch, as well. This wasn't my favorite of my three designs, and actually it's not one I'd generally rush to buy myself because I wear my Holy Clothing stuff every day, so I don't really have much interest in the garments that seem too costume-like or impractical. The reason I designed it is that a fair amount of people use Holy Clothing dresses as wedding dresses, and so I was thinking, what would my ideal Holy Clothing-style wedding gown look like? For this reason, I hope that the next run of the dresses comes in white as well, but in the meantime I drew my own white version for today, with two garlands to choose from. (I don't own it yet, though, so I don't know the details of the finished product; please don't take my drawing as representative of the real thing.)
Unfortunately, by the time the dress came out (almost a year after the contest ended), it seems that some wires had gotten crossed and they neglected to name it after the winner, calling it Natasha instead. I had really been more excited about that than the $100 store credit, so I was disappointed and wrote about it, asking for the name to be changed; after Christmas, they did change the name to the Liana Dress! (Thank you to everyone who agreed it should be changed – I don't know if it affected the decision, but personally I appreciated it!)
Well, in any case, if you want to wear something I designed, this may be as close as you'll ever get! Check Holy Clothing out, as well as their very active Facebook fan page.