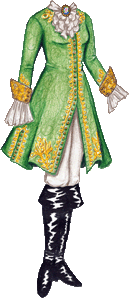 Click for larger version (PNG); click for PDF version. Click here for the list of dolls.
Welcome to day eight of the Queens of the Sea series, part of the Random Magic Pirates book tour! Here is the mini-bio for today's pirate, provided again by Lyrika:
Anne Dieu-Le-Veut: The Brave Buccaneer

A buccaneer during the Golden Age of Piracy. She was originally from France, and deported from France to Tortuga by the order of governor Betrand d'Ogeron de la Bouere, himself a former adventurer and pirate.

She fought a duel with a Dutch pirate who'd killed her first husband. He was impressed with her courage in challenging him and asked her to marry him on the spot. He already had a wife whom he'd abandoned, but from that day forward they were recognized as partners and fought side
by side on raids, sharing command.

Anne had a reputation for being laconic, brave, and willful. She also didn't back down, and this was how she earned her nickname (Anne Dieu-Le-Veut, or Anne What-God-Wants), as people said of her that what Anne wanted, God would make happen for her.

Although it was a common superstition at the time that a woman on board brought bad luck, Anne's presence was considered lucky. Reportedly born circa 1650, she disappeared from recorded history in the early 1700s.
In my imagination, there was certainly at least one time in Anne's life where what she most wanted was a sweet pirate coat and gloriously shiny boots. Who can say whether or not the Almighty granted that particular request, or indeed any of them; at least I can, although it is rather too late for her to enjoy it. In any case, this kind of coat is called a justacorps, and it's what we think of — or, at least, what I think of — when we think of over-the-top pirate captains from the Golden Age of Piracy.
So, I'm quite behind on my pirate series, I'm sorry to say; today was supposed to be the last day, but I still have two left, so I'll do one tomorrow and one on the 26th, which is when the final poll will be open.
Don't forget to enter my contests! Click here for the chance to win an original drawing, for those of you who can give me an address if you win, and click here for the chance to design a pirate outfit, open to everyone!
Check out the tour schedule here! And for more information about Random Magic, here's the trailer for the book.
Also, check out the Rum + Plunder treasure hunt for more pirate prizes!