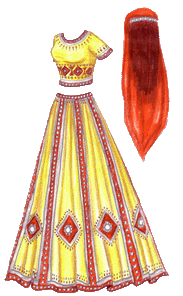 Click for larger version; click for the list of dolls.
Yesterday Brian and I went to see Dandia Dhamaka, which was an intercollegiate raas dance competition. Raas is a folk dance from the Gujarat region in western India, and it's great, very high-energy and fun to watch. (Here's a video of the University of Michigan group from 2007.) I say "folk" dance but it was a competition between ten college teams, so a lot of the groups worked in cute themes with their introduction videos — one had a Willy Wonka theme, there were two circus themes (probably a source of some consternation) and a couple I couldn't figure out what precisely the teams were going for because I couldn't hear very much over the clown with drums leading the "Go Blue!" chant a few rows over. (I was grateful to the group that subtitled their video.) I haven't found out who won yet, but I really liked the University of Miami's overall energy, Michigan State University's choreography and University of Michigan's costumes.
Of course I loved the costumes in general, which were all brightly colored and dripping with mirror embroidery, bold designs and metallic fabrics. From our balcony seats I couldn't get a great look at the details (specifically I'm a little sketchy on how the dupatta is fastened to the top of the skirt) but the overall effect was dazzling, especially for the moves where the girls get flipped over the guys, which fans out their skirts. I liked Michigan's costumes best because they looked sophisticated and very nicely done. The skirts had a huge amount of shiny decoration covering the front, and then the back was only lightly decorated, so the audience saw both the front pattern and the rich-colored fabric as the dancers moved. They kept to just maize and blue, too, but with the guys in mostly maize and the girls in mostly blue there was enough contrast to be interesting. MSU's group, to me, went over the edge in the costume department: their costumes looked to be the most sumptuous with rich jewel tones and gold accents, but from where I was sitting the men and women looked to be wearing the same thing cut differently, and it was just a little too busy. Still, I liked their dancing best, so let it not be said I'm biased against Spartans!
Anyways, this is my version of a raas dancing costume, although it may not be accurate. The dupatta (the red veil part) was, I think, for most of the girls fastened at the waist, but I can't really figure out how it works in real life and how to make it work for a paperdoll, so I'm afraid this version is just loose. (Cut it on the black dotted line, below the silver part.)
Anyways! Yeah, hello. Brian says that's why he never makes New Year's resolutions, because then you never do them anyways. So I decided to make a New February resolution, which was not to take any guff from my husband. In entirely unrelated news, here's a paperdoll outfit.