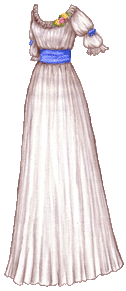 Click for larger version; click for the list of dolls.
Well, now, it looks like the readers of this blog have what you could call a slight preference for The Duchess' costumes (a lovely gallery of which can be found at the Costumer's Guide to Movie Costumes); as I write this it's garnered 66% of the vote, with the other four neatly splitting the remainder. Not much of a surprise, we do like our fancy gowns around this joint after all. The possible list of leaked Oscar winners would be against us, preferring Benjamin Button instead, but that has all the authenticity of, well, a random list on the Internet.
I didn't see The Duchess, or, sadly, any of the other Best Costume nominees, but I wanted to draw something inspired by its main character, Georgiana Cavendish, not the least because I recently discovered the The Duchess of Devonshire's Gossip Guide to the 18th Century (and its counterpart concerned with Marie Antoinette) and since I've never been much into 1700s fashion before (I love the 1800s, everything before that I'm real vague on) I've been enjoying it. Well, lo and behold there is a style of dress that Marie Antoinette started and Georgiana introduced to England, so that seemed to be the right thing to draw tonight. It's called the chemise à la reine, and it was quite scandalous when it was introduced in the mid-1780s because it was essentially like wearing one's underwear out in public, not what one expects from one's queen. A very simple garment, it was really the precursor of the Regency gowns as the waistline inched upwards.
Don't forget — livedolling the Oscars here, tomorrow! Stick around the comments section and help me decide what to draw. I'll be looking frantically for streaming video of the red carpet show (more interesting than reloading Getty Images all the time), let me know if you know where to find it.