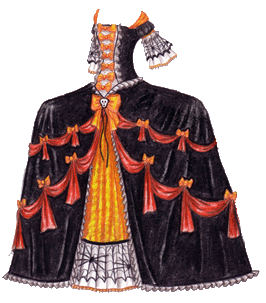 Click for larger version; click for the list of dolls.
Now, I actually don't believe in ghosts, but if Marie Antoinette walks the earth still, I like to think she has something like this to comfort her. It would certainly comfort me, not that I intend to become a ghost. Just think, if one was a ghost and wearing panniers one wouldn't have to turn sideways to go through a door anymore! Thanks to Antoinette's Closet for inspiration.
In any case, thank you everyone for following my costume month. My goal was to do one a day, and I got 20 done (plus one Hinawa, and a couple of Boutique posts) which isn't bad. I hope those of you who aren't really all that into Halloween didn't get too bored, and I hope that those of you who do enjoy Halloween liked some of my costumes and are enjoying yourself in some fashion tonight.
So, now I want to know which one was everyone's favorite. We'll do this in four parts, with part 1 today and closing in two days…