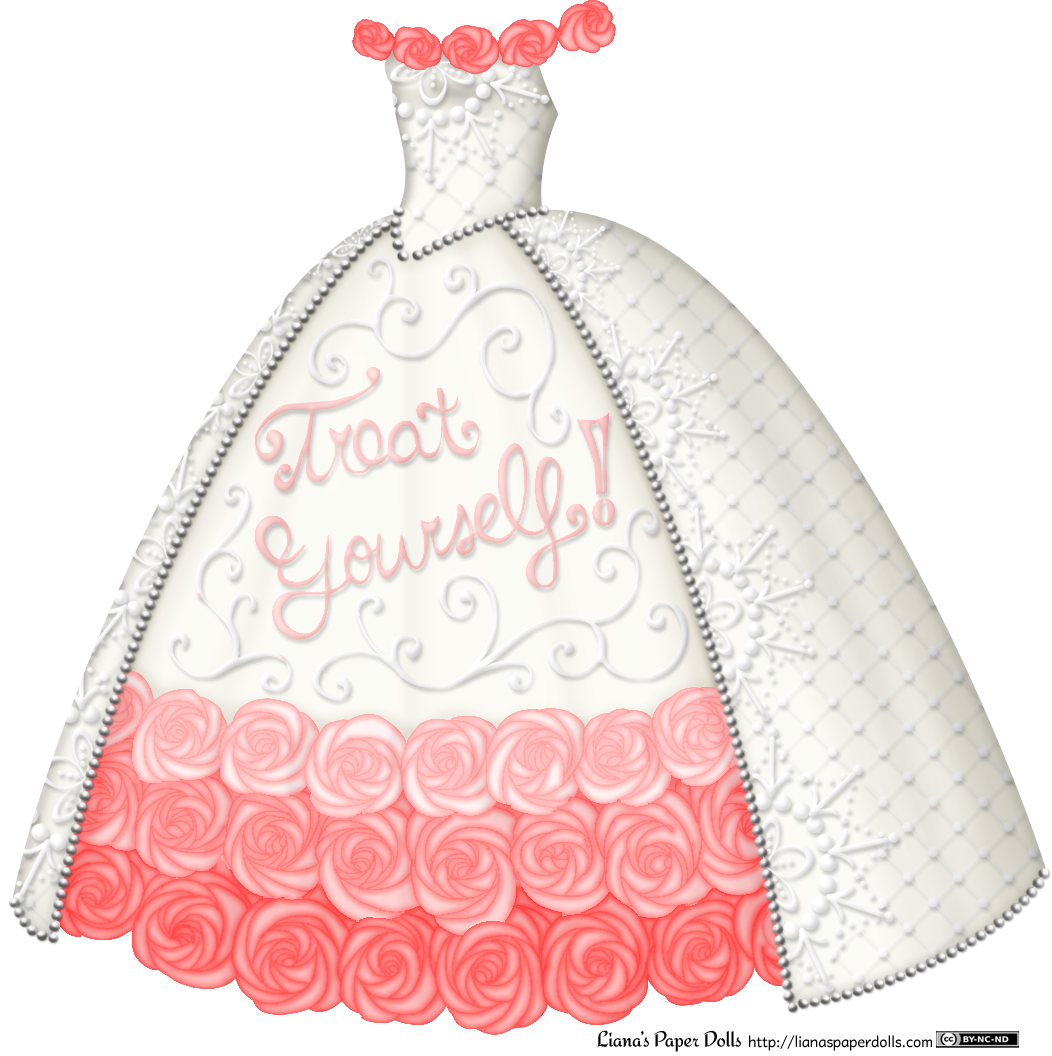 This ballgown was inspired by a recently released adventure game, Broken Age. Vella, our heroine and one of the two protagonists, is a young woman who lives in a town of bakers that is terrorized by a horrendous monster called Mog Chothra every 14 years. In a scene that you'll always remember whenever you see a cake made to look like the skirt of a Barbie doll or a princess, our heroine, along with four other young women of the village, is offered to the monster as a human sacrifice at an event called the "Maidens Feast." They are all embedded in gigantic cakes that look like skirts, which are gorgeously decorated with all the skill the villagers have and inscribed with tempting slogans like "Delish," "Hot Stuff" and "Up For Grabs!" Each of the young women is hoping to protect her village and bring honor to her family by being selected (that is, eaten) by Mog Chothra… except for Vella. But how do you escape a floating monster the size of a mansion when you're stuck in a cake, ready to be served up?
Broken Age is a point-and-click adventure game, notable for being one of the first Kickstarter successes. To put it simply, adventure games are rather out of fashion, but two years ago Tim Schafer, known for other classics like Grim Fandango, said to the Internet "We'll make a new game if you give us money" and people got out their wallets, leading to this game's release. In games like these, you solve puzzles by exploring, talking to people, finding objects and using them in the right place. Some were notorious for being unforgiving (looking at you, King's Quest series), and some had goofy, implausible puzzles (like one where you had to disguise yourself by making a mustache from cat hair and syrup), but Broken Age is nicely designed: you can never get in a situation that you can't get out of, and the puzzles are entertaining but not exasperating. The art is lovely, with a style that looks almost as if it was all painted, and the settings are all detailed and fun to explore. Vella is also a fun, capable heroine, who rejects her world's passive acceptance of Mog Chothra and breaks free of the cake skirt to find a different way to protect her village. The other half of the game explores the story of a young man named Shay, whose world couldn't be any more different from Vella's…
Right now, only the first half of the game is out, with the second half to come later this year. I think it's well worth the price, and if you check it out, please let me know what you think of it!
It looks our our Oscar night winner is Lupita Nyong'o's blue Prada gown! I don't know when I will have that up – I will try for before the end of the month, but it might be later. Also, a 1910s outfit will be our contest prize; it beat out a pirate outfit and an evening gown with over half the vote. I will do some research and some sketches, so come back next Friday for a contest and a Japanese fairytale! Until then, you can follow me on Facebook, Twitter and Pinterest for site updates, sneak previews and ridiculous amounts of fashion plates. If you enjoy my work, I'd also appreciate your support through Patreon.