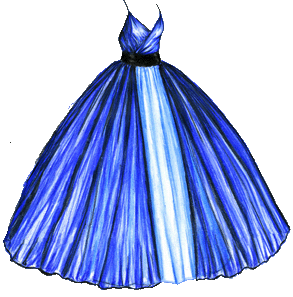 Click for larger version (PNG); click for PDF version. Click here for the list of dolls.
Today I just felt like playing with some of my blue Prismacolors. The result is not very well executed, I fear, because I'm too excited to concentrate on anything too well! Tomorrow, I'm going to be going back to Michigan for a week to visit some friends, and I have been looking forward to it for quite some time. (Although I hear that I'm bringing an ice storm with me. Here in Washington, we're well into daffodil season, and my friend who I'm staying with is warning me to bring boots and my winter coat…)
Because I'll be on vacation, I decided to put together a couple of posts from my old Boutique outfits that will update automatically while I'm gone. The next new drawing will be on the 31st, possibly the 1st if I don't have time the day after I get back.