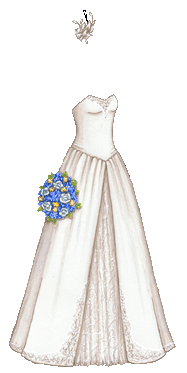 Click for larger version (PNG); click for PDF version. Click here for the list of dolls.
I've been thinking a lot about weddings lately — specifically Japanese imperial weddings, but weddings all the same. It seems like everyone (in America, that is: the sort of thing one wears for an imperial wedding ceremony is rather different) is wearing strapless gowns with A-line skirts in recent years, and I thought it might be fun to take a stab at one myself. Plus, it afforded more opportunities to play with the white gel pen!
I have no idea if blue and light yellow is a popular color combination these days, I just wanted to use some unexpected colors. The fascinator is based on one created by Brian's cousin Emily. As for the choice of strapless-A-line itself, it's been popular so long that I'm a little bored of it, but it's still quite pretty and it has the further advantage of not being a pick-up skirt.
By the way, I'm taking a cue from the new paperdoll blog A Paper Closet and showing the outfit on the doll instead of just having it floating on an invisible mannequin. Check that blog out, by the way, and all of the other paper doll blogs I've put up on my blogroll, after losing all my links in a server move. There have been some great ones that started while I was on hiatus, like A Paper Doll Blog and Karen's Paper Dolls.
You get one more clue today, before the contest ends…
How many visits did my site get between (and including) April 1, 2010 and April 30, 2010?
Don't forget the rules…
1) If you've already won this year, please don't enter.
2) One guess per person per post.
3) If no one gets the exact number by 9:00 PM EST, June 2nd, I'll pick the closest guess.
4) I'll give one hint each day the contest goes on.
– Sunday's hint: It's between 10,000 and 30,000
– Yesterday's hint: The middle digit is 6.
– Today's hint: The fourth digit (counting from the right) is an odd number.