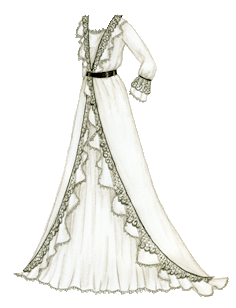 Click for larger version; click for the list of dolls.
I drew this just to practice drawing lace. You see, my Anna Karenina gown is one of my favorite ever paperdoll outfits, and if Sylvia is ever to have a ballgown that she can wear beside Anna's black lace gown with pride, I should make sure I can do lace. Sure, she has Margaret Hale's, but I just didn't see her as being the type of girl to wear a huge frothy concoction, and so that's not what I drew for her. I actually forgot how I did Anna's lace, so I kind of have to relearn it, but it should be easier to do lace well this time, because I bought a set of the Prismacolor Verithin pencils. You've been seeing them all over since I first got them: the gold on Ashe's wedding dress owes a lot to the dark brown, the embroidery for the St. Patrick's Day outfit is all Verithin, the blue details on the copper mermaid's top are done with it as well. You wouldn't really get intense colors with them like you do with the regular ones, but you can do details so much more easily… If I tried to do the black lace with the regular black, I'd have a black pencil about half an inch long left over, after sharpening it every half second. The only problem is that the only Verithin grey I have is warm grey 20%, and that's too light on its own to do white lace– I need a 30%, or at least a darker one — and I don't even know where I can buy them individually. So for today, I did black lace instead of white.
Since I couldn't do white on white with colored ribbons quite the way I wanted it to work out (my original scheme) I wanted this dressing gown to be totally over the top and fabulous. If I was Scarlett O'Hara or Jennifer Lopez, I would buy this and swan around in it all day long. This is as close to "diva" as I really get!