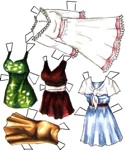 Click for larger version; click for the doll.
I find myself, at the time of this writing, with a terrible headache and no drawings stored up in reserve… so instead of silence I thought I'd post some of my old Boutique dresses and one of the dolls.
When I was in high school and college, I ran a site called "Liana's Paperdoll Boutique" for which I drew dresses and dolls. It got to be really rather sprawling, and was great fun, although my laziness, perfectionism and inability to really focus on more than one thing with  all my heart caught up to me and it slipped away at some point. These are from that old site.
I don't remember which birthday it was when I got my set of 120 Prismacolors — though I bet my mom could — but in any case, these date somewhere to maybe sophomore or junior year of high school, 1997, 1998. (I'm very bad with dates…) I still remember details about some of them… the blue dress was a request from some paperdoll fan, and the gold dress was my first try at gold, and really my technique hasn't changed too much. Also, I don't do the outlines with black ink anymore, and I use the colorless blender instead of white… I don't think my dolls look a lot better, though, and I post this one with some embarrassment, but hey, it's history!