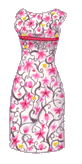 Click for larger version; click for the list of dolls.
The New Yorker Fashion issue arrived the other day, and I loved the cover, so I drew a dress based off of the pattern. I think it looks nice and springy, if a little busy…
I always enjoy the fashion issue, probably because I love clothes and I don't have a particle of style myself!