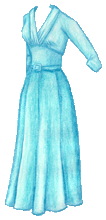 Click for larger version; click for the list of dolls.
I e-mailed Erin from A Dress A Day last week and submitted my blog for her Linktastic Fridays, and today, when she posted it, my traffic went waaaay up. Since I started I've gotten maybe a hundred, two hundred hits a day, and on Friday, over a thousand! My stats graph looks like a cute little worm sticking its head up and looking around curiously.
A Dress A Day always makes me wish I could sew. I can't sew well, and I've thought recently of taking a class, but it is a little hard to be all that enthusiastic about it when two hours with the Prismacolors will get me a dress, done exactly as I wish it, with divine colors and as much lace, frills, jewels and amazing fabric as I care to lavish on for rather less than I'd pay for the real thing. And if I can't wear it, Sylvia can, and that way it never gets dirty or torn. If I had carte blanche and a personal dressmaker, I would wear things like this all day, but as it is I have colored pencils, and that works for me. Anyways, this dress is based off of one on Erin's page, although it's more aqua and the collar isn't quite right.
On a sadder note, I think we are entering the last days of my scanner. (You can kind of see the banding on the skirt, and that's because I messed around with the placement; when I scanned it as I always do, the banding was VERY apparent…) Hopefully we'll pick up a new one soon enough that I won't have to miss any days. (I do a lot of the days in advance and post them later thanks to WordPress, but right now, I'm not any days ahead…)